E-commerce Awards Kenya 2019: Trust and Last mile delivery remain key challenges
The inaugural e-commerce awards in Kenya was held at Movenpick Hotel on 9th August 2019. The event brought together players from different fields ranging from retail to fashion, floral design and beauty industry among others. An interesting statistic to note is that there are over 50 e-commerce websites in Kenya but their visibility continues to be an issue as market giants such as Jumia, Kilimall and Masoko continue to rule the market.
Wes Chege, co-founder of OkHi, a startup based in Nairobi seeks to solves the national addressing system. OkHi sets to solve the addressing problem locally by giving accurate GPS locations and photos of gates to speed up fulfilment of deliveries. The lack of a national addressing system continues to be the biggest challenge of last mile delivery as while geo-location apps exist, their accuracy continues to be an issue. OkHi solves this by using an accurate GPS point and an accompanying photo for exact verification. Sammy Thuita, an e-commerce business manager at DHL noted that the consumer demand is growing at high levels and players must step up to meet consumer expectations which has a huge effect on the e-commerce experience.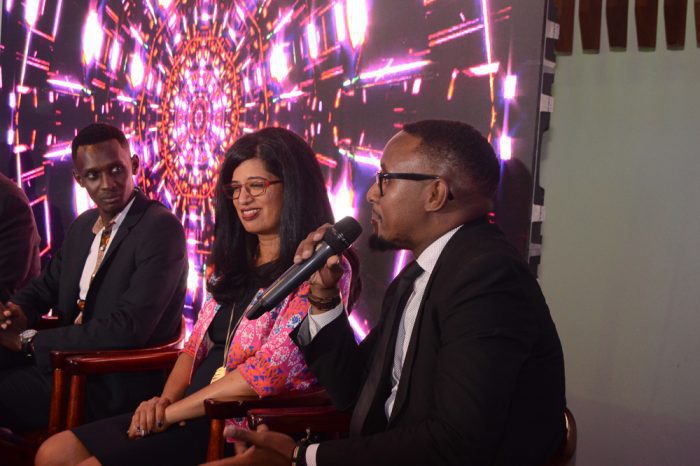 Sammy Thuita speaking during the plenary session  
Trust was also not left out in the conversation. During the plenary session, Mr. Kinoti from Standard Media Group who run the Digger Classified, noted that e-commerce in Kenya might not be really be the correct definition. He instead argued that m-commerce is the order of the day in Kenya. This is true going by the latest Jumia Mobile report that shows that majority of e-commerce transactions carried out in Kenya are through smartphones. The dynamics that follow he asserts, should be made around the usage of smartphones. Trust in e-commerce continues to be an uphill task due to the numerous unpleasant exchanges that consumers have has online platforms as well as the fear of the unknown.
Sharon Holi, Head of Masoko Limited notes that building trust in the Kenyan consumer could be done through the building of brands and once the consumer trusts the brand, then it would influence the Kenyan space. A significant number of transactions on the Kenyan e-commerce platforms are still based on Cash on Delivery model which poses several security threats and lack of product trust continues to prevail. There is little empirical evidence examining the Kenyan consumer attitudes on e-commerce and how a trust-model can be formulated from this exercise.
Peter Ndiang'ui, CEO of GoBeba, an on demand logistics platform, notes that Cash on Delivery may not be  just a trust issue. He asserted that prepayment models were still very unpopular as consumers tend to see it as a sort of lending facility since they have not received the product yet. Customers end up using money meant for Cash on Delivery payment. This causes inefficiencies in some extreme cases insecurity as in the case of Nigeria where prepayment is the only available method after an insecurity incident. He notes that there is need to innovate around payment models to make it attractive such as hire purchase options for e-commerce platforms.
The Kenyan e-commerce conundrum continues as there is need to do more. The lack of a national addressing systems continues to hinder delivery and consumers in Nairobi are the only ones who seem to enjoy the fruits of e-commerce. Other regions continue to lag and the brick and mortar model of business remains to be the order of the day. The lack of a clear policy on e-commerce regulation continues to make it an uneven playing field in terms of product quality, last mile delivery, customer guarantee, favorable return and refund policies that are completely left at the discretion of the e-commerce platforms.
There is need to create policies around these areas to protect the consumer. In terms of delivery, innovative models such as Crowd Source Delivery could be tested for the Kenyan market. The model leverages on low cost non-professional couriers who can deliver to consumers in a shorter time since they cover the logistics and have a better understanding of where they are delivering in because they live there. This has been very successful in the US, as is the case of 'Amazon Prime' an on demand last mile delivery solution that delivers within the same day of order or even a few hours. A click and collect model could also be strengthened where customers collect their goods from designated collection points in a bid to hasten the last mile delivery. The full list of the winners from the night are available from https://ecommerceawards.co.ke/2019-winners/  I am continuously researching on the e-commerce space in Kenya and I welcome your thoughts.
Tags In